BACKGROUND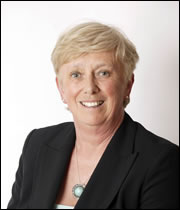 Nanette has spent her whole life in the North East of Scotland. Her parents owned a sweet shop in Dundee before moving to Aberdeen where she attended Aberdeen High School for Girls, then onto Aberdeen University to study medicine.
A Doctor by profession, Nanette has filled various medical and surgical posts in hospitals as well as undertaking research work in oncology. Her career has spanned nearly 20 years working for the NHS in Aberdeen hospitals
Nanette's service to the North east includes:
10 years as a Community Councillor
11 years as a City Councillor
6 years as a Director of Grampian Enterprise Ltd.
Nearly 7 years so far on the Governing Body of Aberdeen University
Nanette has wide experience within the Scottish Conservative Party at constituency and area level and nationally as Vice Chairman in the late eighties/early nineties.
She has been married for over thirty years to Alan a senior local GP with two children who were educated at Cults Academy and then Robert Gordon's and Aberdeen Universities.
CONTACT DETAILS
Edinburgh:

The Scottish Parliament
Edinburgh
EH99 1SP

T. 0131 348 5651
F. 0131 348 5934
E. nanette.milne.msp@scottish.parliament.uk

Email address for enquiries to go to: nanettemilne@scottishconservatives.com

Or at

Northeast Scotland Conservative MSPs' Regional Office
265a High Street
Arbroath
DD11 1EE


Tel: 01241 430 467
Fax: 01241 430 476


Email: nanettemilne@scottishconservatives.com
POLITICAL INTERESTS
Nanette is the Deputy Health Spokesman for the Scottish Conservative Group. This allows her to draw on the many years of experience gained in the NHS and as a practicing Doctor.
Endometriosis
Most recently, Nanette has met with the National Endometriosis Awareness Group to discuss current provision for this common and potentially cripplingly painful disease. Nanette supported Endometriosis Awareness Day which aimed to raise the awareness amongst women and the medical community.
Diabetes
Nanette has asked the Health Minister what action he will taking to improve the quality and availability of information to patients newly diagnosed with diabetes. Recent reports have suggested that newly diagnosed patients feel confused and ill-informed about their condition. Nanette is campaigning for a more comprehensive support service to be provided to sufferers.
Closure of Kirk Homes
The recent announcement that the Church of Scotland may have to close many of its homes due to financial problems has potentially devastating effects for elderly people and their families within the region. Nanette spoke passionately on the subject on a motion in the Parliament and is seeking clarification from the Church of Scotland, and local authorities of what action they will be taking to bring together a rescue package.
Food Supplements Directive
Nanette opposed strongly the importation of EU regulation affecting UK food supplements. Many people in the North East have written to Nanette telling her how they have found pain relief and health benefits in supplementing their diet with vitamins and minerals. The regulation would prevent individuals from practicing the freedom to choose. The regulations were voted through in Committee by the labour and Liberal coalition despite protests from the Scottish Conservatives. Nanette will continue to fight the legislation to the final stages.