BACKGROUND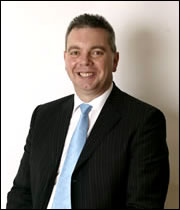 Born in Kincardineshire in 1961 where he continues to live, Alex Johnstone was educated at Mackie Academy, Stonehaven and was a self-employed dairy and arable farmer before his election to the Scottish Parliament in 1999 as a Regional Member for Northeast Scotland. Alex is married to Linda and the couple have two grown up children. Alex's farm is now run by his wife and son and his family's renowned Ayrshire dairy herd was recently ranked in the top ten Scottish Ayrshire herds. Alex has a variety of interests including IT and his local parish Church and he was active in the Young Farmers movement both at local and national level.

Alex contested the Gordon constituency in 1999 and on his election to the Parliament was appointed as the Convenor of the Parliament's Rural Development Committee and he carried on being the Scottish Conservatives' Principal Rural Development Spokesman as well.

In 2001 he became the Scottish Conservatives' Chief Whip and Business Manager, serving on the Scottish Parliament's Business Bureau.

After contesting the Angus constituency in the 2003 Scottish elections, Alex became the Scottish Conservatives' Principal Spokesman on Rural Development & Environment, serving as the Scottish Conservatives' representative on the newly formed Environment & Rural Development Committee.

Alex is currently the Shadow Minister for Communities and Housing.
CONTACT DETAILS
Alex can be contacted at:

The Scottish Parliament
Edinburgh
EH99 1SP

Tel: 0131 348 5649
Fax: 0131 348 5934
Email: alex.johnstone.msp@scottish.parliament.uk

Or at

Northeast Scotland Conservative MSPs' Regional Office
265a High Street
Arbroath
DD11 1EE
Tel: 01241 430 467
Fax: 01241 430 476
Email: alex.johnstone.msp@scottish.parliament.uk